Vehicle Inspections
Key Benefits
| | |
| --- | --- |
| | Purchase Inspections |
| | Expert Witness Reports |
| | Advice |
| | Main Agent / Franchised Agent Warranty's |
Inspections:
Pre-Purchase: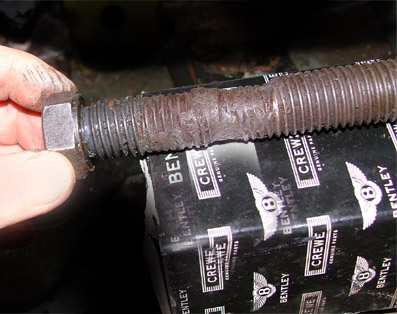 We can carry out pre-purchase inspections on your vehicle. These are highly recommended if not essential.
A client brought their new Bentley S Type, (with a month old MOT), to us for a check over. The worn lower pin shown on the right and other components cost over £2000 in repairs to the front suspension alone. This would have more than paid for the cost of a pre-purchase inspection!
We can travel to any location to keep the vehicle and your travelling costs down.
( subject to facilities being available locally )
We often have to do inspections and reports for legal disputes, either independently or on client instructions. These can be a just a general report or one very specifically concentrating on a single item.
With the help of our report and appearing in court as an expert witness our best result to date is a judgement of more than £50 000 damages awarded to our client. Our costs are usually paid by the other party or insurance company when successful claims are made.
Insurance Claims:
If your insurance company is being unreasonable about a claim, we can act on your behalf, explain where they have made any errors and why they are not allowing enough for a repair or loss claim. Most assessors are not used to Rolls-Royce and Bentley cars and have to base their report on their knowledge of 'normal' cars. Once the facts are presented to them they usually re-consider. When they do, our costs are paid by them.
If you have just bought, inherited, already own, or found new interest in a Classic car we can carry out a test and report to identify any areas that will need immediate, future or preventionary work. We can tailor a plan of maintenance or restoration which will suit your budget and maximise the value of any money spent on the vehicle. This will also allow you to budget more easily for the future, and hopefully keep surprises to a minimum.
Perhaps spending a small sum today will save you hundreds or even thousands a couple of years down the line.
If your Rolls-Royce or Bentley has a Main agent warranty:
We work closely with four franchised agents so we can ensure that your vehicle is correctly maintained and ensure it's warranty remains valid and you obtain the best service available from it.
We can have your vehicle serviced and any warranty work dealt with by a trusted main agent but will carry out the non-warranty work our-selves. Why pay dealer prices for having items like brake pads fitted when we can usually do it at half the cost.